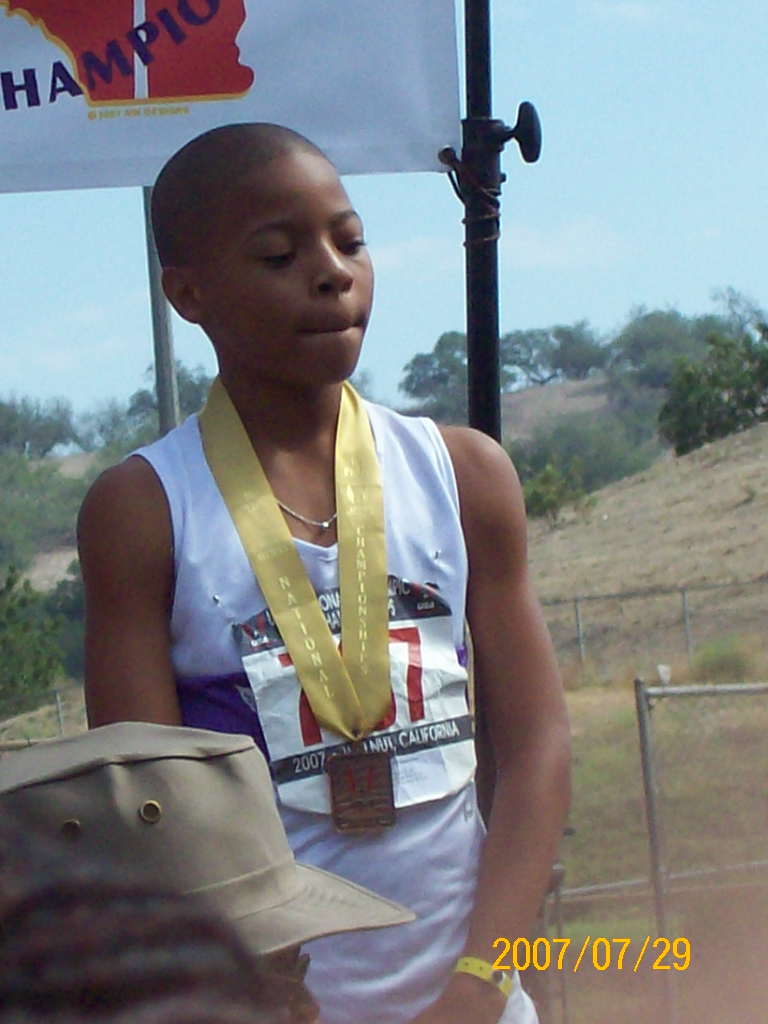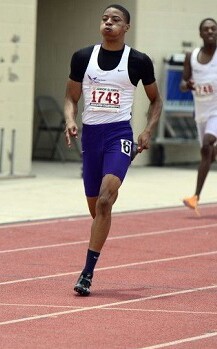 by Rana Cash
There are late bloomers—and then there's Quashawn Cunningham. Nothing about Cunningham resembled an elite sprinter. He was 5-foot-1 and weighed a mere 105 pounds. No one stood next to him at the starting line and saw reason to be afraid. That's understandable. After all, it was Cunningham, then a tiny freshman thrown into the fire of his high school varsity track team, who was intimidated. "Everyone was so much bigger and stronger," he says now. "I went from middle school and youth track to high school and was just being dominated."
A lot can change in three years. Cunningham is again a freshman, but now at North Carolina State University where he is on a track scholarship. Today, he is 5-11-1/2 and 153 pounds – bigger, stronger and unbelievably faster than even he thought he would be back then. "My dad stayed in my ear," Cunningham said. "He just kept telling me, 'You're gonna grow up at some point.'" And he did. He grew into one of the most accomplished youth track athletes in the state, developing his skills at Mallard Creek High School and in the Charlotte Flights youth track and field program.
With highlights in every sprint event, his best work has come in the 200 meters, with a personal best time of 20.83 seconds. His high school program put great emphasis, he said, on building physical strength in the weight room. Coach Anthony James of the Flights took that foundation and worked on building Cunningham's speed. One workout in particular, 250-meter sprints which came like clockwork on Mondays, is where he believes he turned into the speedster he is today. "I didn't necessarily dread it," he said of the Monday grind. "What made me look forward to it was the thought of my time improving. It made me push a little harder."
He grew up in the program, with the support of his mother, Teresa Sloan and his father Ronald Cunningham. Cunningham – nicknamed "Q" – began running with the Flights at the age of 9. When he was 12, he moved to California to live with his father, who'd relocated. The timing was perfect. His grades had begun to slip and so were his performances on the track. His father worked to get him back in shape – mentally and physically. "I needed a man's presence around," he explained. "I think every young man needs a man in their life as they grow up, until they learn things themselves. That little motivation put me back on the right track."
But on eight-lane tracks, he was a disaster, too small and losing too often. During the second half of his junior year in high school, he and his father moved back to North Carolina. They rejoined the Flights, and Cunningham enrolled at Mallard Creek. It wasn't long before a growth spurt hit…from 5-1 out in California, to 5-9 as a junior and then as a senior, up 10 inches since his freshman year.
His times began to drop rapidly and college coaches noticed. He first committed to UNC-Charlotte, but once he was offered by N.C. State, he says he couldn't resist the lure of the ACC. He is especially enthralled with the Wolfpack sprint coach, Tamara Ards, who has coached numerous All-American sprinters and hurdlers. "She's so knowledgeable, she could write a book if she wanted to," he said.
He credits much of his exposure to collegiate programs to the Flights. "I feel like summer track is the icing on the cake," he said. "As much as colleges look at high school, in the summer you can look to improve your PR. You have the weather and extended time to get better and better. If I had to do it over again, I would do it." And if he could talk to all the 5-foot-1 kids out there who want to achieve what he has, he'd tell them this: "Don't give up. It's gonna happen at some point. You can't be small forever."